Home Sweet Home . . . Now Smarter Than Ever!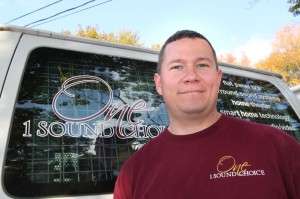 Just for a moment, imagine what it would be like to surround yourself and your family in a home that "reads your mind" and automatically reacts out of your need to feel safe, secure, relaxed and joy.  I'm Ryan Herd, owner of 1 Sound Choice in Pompton Plains, NJ, a renowned company that's been singled out by Angie's List for its superior ability to create a smart home living experience that uses intuitive technology to simplify and enhance your lifestyle.
We believe your home should be your sanctuary. . . A very special place that offers you an escape from the outside world . . . An "everyday experience" that rewards you and your family with a peace of mind that lets you more fully enjoy your time in your home.  We're here to make that dream come true for you.  Start living the dream by calling us today.
Ryan Herd
CEO
1 Sound Choice
What We Value
1 Sound Choice….Creating the perfect smart home experience for you, your family and friends.
Our Pledge To You
Your home should be a place of refuge, warmth and joy that's free from all the distractions of the outside world.  1 Sound Choice is all about transforming your home into an oasis that uses intuitive technology to simplify as well as enhance your lifestyle, so you can spend more time relaxing, enjoying and having fun with family and friends in the comfort of your new smart home.  We now make it possible for you to experience a brand new world of simplicity, convenience and excitement through smart home living.  An experience that will forever change your life by bringing the future into your home.
Call us today at 973.316.0678 to see how we can enhance YOUR home and lifestyle!
SIGN UP FOR OUR NEWSLETTER
Receive exclusive promotions, updates, and links to valuable content!
.