Are You Ready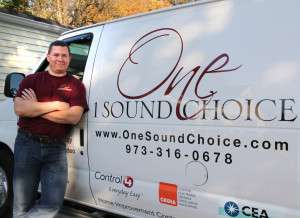 to experience the crisp quality of a high definition flat panel television?  Does the thought of a new home theater have you humming the theme song from your favorite flick? Would you like to control your home through your Smart Phone? But, does reality set in when your daydreams turn into the nightmare of trying to "figure out" the details?  Will the new TV really actually fit over your fireplace?  How will you hide the cord?  Where will the outlet be?  Once you are sent back to reality, you return to your same chair with your same old TV and just keep wondering about all of this.  STOP WONDERING – 1 Sound Choice can make your Smart Home dreams a reality!
WHO WE ARE
1 Sound Choice is Northern New Jersey's Smart Home Experts.  We help make your lifestyle easy & enjoyable because we "tame technology".
WHAT WE DO
Smart Home/Home Automation – At the touch of a button, or from any mobile device YOU control everything – lighting, security, HVAC, music, TV's – in  your home seamlessly and easily.
Integrated Home Networks (Wired and Wireless) - A robust network allows you to surf the net while the kids play XBox and the mother-in-law streams a movie from netflix.
Multi-Room Audio & Video – It's Party Time. This allows you to play music and/or video from any format – in any room – at any time.
Media Rooms/Family Rooms – Provide a location for the family to gather in comfort to enjoy each other and relax while watching the TV.
Dedicated home theater – Experience the thrill of owning a state-of-the-art Home theater at an affordable price. Enjoy the ultimate movie experience without ever leaving your home.
Lighting & shades – Dim the lights or close the shades in any area from your       Smartphone, I-Pad or a central keypad.  Ever have the kids leave all the lights on in the house – we make it easy for you – the touch of 1 button and everything is turned off.
Security – make your home safe & secure with automated door locks and security cameras.
Corporate Board Rooms, Crisis Control Centers and more! - From Residential to Commercial we are your 1 Sound Choice!
HOW WE HELP YOU
Eliminate stress in your life by creating a Lifestyle environment in your Home that is simple and easy to use.
Allow you to take full control of your Home environment and check-in from almost anywhere in the world using mobile applications.
Provide protection for your Family through use of security cameras that can be remotely accessed.
Enjoy life more – relax – Let 1 Sound Choice help to make your life easy …
Call us today at 973.316.0678 to see how we can enhance YOUR home and lifestyle!
.